Blog
Meet the stockist
Books on the Hill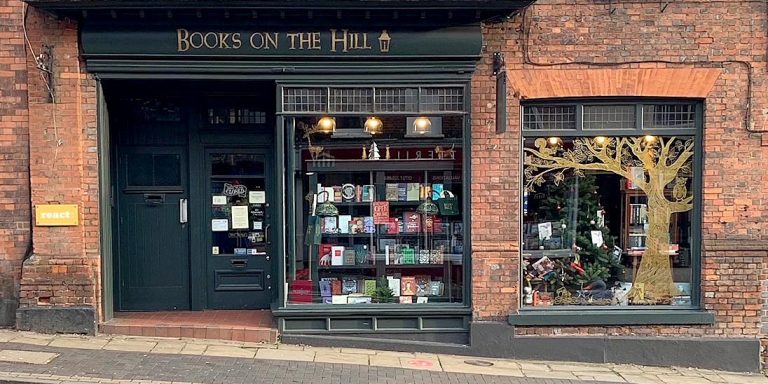 Friday 6th October 2023
Candlestick Press
Third in our series of blogposts profiling some of our lovely stockists is 'Books on the Hill', an independent, family-run bookshop in the historic city of St. Albans, just 20 minutes by train from the centre of London. The shop is run by Antonia Smith who opened it with her mother Clare.
Tell us a little about the bookshop and its history.

Our doors first opened on November 11th 2019. We're a team of dedicated book collectors and reading enthusiasts, who strive to match the right book with the right person.

The dream was of creating a warm and inviting, old-fashioned bookshop – a haven for busy lives. We see ourselves as a meeting place for readers, writers, poets, talkers, speakers, thinkers and dreamers.

What are the unique aspects of the shop? What do you think your customers particularly appreciate?

We're called 'Books on the Hill' because we're located on Holywell Hill. We hope the name helps those new to the city to locate us easily. Our bookshelves are curated by our entire team of booksellers and volunteers which ensures an eclectic range of titles from best-sellers to niche translations.

Additionally, our quirky interior inspires readers both young and old, who enjoy measuring themselves on our character height chart and reading the quotes on our walls from authors and inspirational people.

Many bookshops hold events such as readings. Are these important for you?

We hold all sorts of events – everything from author talks, book signings and open mic nights to book launches and quizzes. We also run a range of book clubs, aimed at readers from 5 to 100 and above! We feel these events help to bring joy to the community.

Our book clubs are particularly appreciated, with members describing them as a great way to meet new people and make friends in the city.

Where do you display your Candlestick pamphlets?

We've had various homes for our 'instead of a card' pamphlets but have found our vintage display case to be their favourite place. Once a week we order in a batch of up to twenty new pamphlets to showcase. They continue to be a highly popular method of sending best wishes to loved ones in place of the traditional card.

Do you have a Candlestick best-seller?

I would say each of our booksellers has a personal favourite, and one they regularly share with customers. I have two; my first is

The Wood in Winter

, which introduced me to

John Lewis-Stempel

whose work I now adore. My second would be

Ten Poems about Gardens

. I have to confess I'm rather biased, as Monty Don is a well-loved figure in my home and his introduction gives me the same feeling as watching 'Gardener's World' on a Friday evening… pure joy!

If we could make a wish come true and publish a title specially for your shop, what would it be?

For me a pamphlet called

Cherished Memories

would be an uplifting treat. It would be filled with poems about those moments in life that bring joy – such as

Philip Larkin's

'Coming' or

Jenny Joseph's

'The Sun Has Burst the Sky' or even

Christina Rossetti

'A birthday'. I feel the world needs more uplifting publications!

What are your ambitions for the bookshop in the future?

I'm looking forward to further expanding our range of events so that we can continue to provide a positive service to our local community. That's what I think we're here for!