Blog
Meet the stockist
Banner Books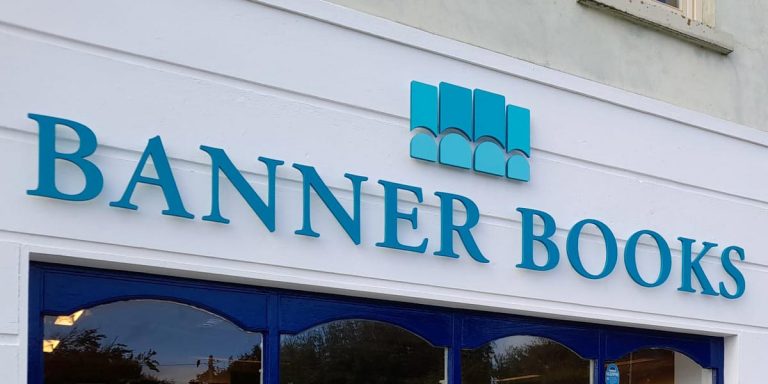 Wednesday 22nd March 2023
Candlestick Press
Second in our series of blogposts profiling some of our lovely stockists is Banner Books in the Republic of Ireland. Banner Books has two shops in County Clare – one in Ennistymon and one in Kilrush. Both shops are managed by Sally Vince, ably assisted by Hashtag the bookshop dog.
Tell us a little about the bookshops and the towns where they're located.

We opened in Ennistymon, in the north of County Clare, in June 2019. Because of Covid we were closed for more months than we were open in the first couple of years, but somehow we survived that. We sell both new and second-hand/antiquarian books, as well as cards and art from local artists, and we have comfy chairs so browsers feel welcome to take their time choosing their books.

Ennistymon is a vibrant little town with two bookshops, great places to eat and a number of artists with their own small galleries, as well as a public gallery in the Old Courthouse. The artists work together to promote each other via an Art Trail, together with other shops, such as ours, which sell artwork.

In June 2022 we opened a second shop in a town in the west of the county. Kilrush is a market town at the mouth of the River Shannon. It is very different from Ennistymon, but there is a similar enthusiasm for books and we have been made very welcome. Again, it is a mix of new and second-hand books, and we have comfy chairs to make the space inviting.

Our bookshop dog, also known as Hashtag, happily splits her week between the two shops.

Many bookshops hold events such as readings. Are these important for you?

The two shops are of a similar size, but the layout in Kilrush is better for holding events. We have just started a programme of talks, book clubs and workshops. Our first event was by a local historian who talked about Nan Hogan from East Clare, a prominent republican in the War of Independence and the Civil War. Our book club has got off to a good start, discussing

The Keeper of Stories

by Sally Page.

In Ennistymon we help to organise the Ennistymon Book Town Festival (which usually takes place over the last weekend of August). Second-hand and antiquarian book sellers from around Ireland come and set up pop-up shops.

Where do you display your Candlestick pamphlets?

We love the Candlestick booklets!

In Ennistymon our cards are on stands dotted around the shop. The Candlestick booklets are in a basket on a shelf close enough to the counter that we can earwig customers' responses to them. People love to riffle through the basket, exclaiming over the different titles and many, many of them say what a wonderful idea they are. People often call over their friends to show them what they've found. More often than not, people will buy several at a time and then come back for more.

In Kilrush we have a whole card stand for Candlestick booklets in our 'card room', where they are displayed face-out so the titles can easily be seen.

Do you have a Candlestick best seller?

Our best seller is

Ten Poems about Art

and the nature ones are always popular, as is

In Memoriam

. In summer we sell a lot of

Ten Poems from Ireland

in Ennistymon, as we have a big hotel around the corner where a lot of Americans stay. Tourists love to buy the booklets as they can't get them at home and they are light and therefore easy to take back with them.

If we could make a wish come true and publish a Candlestick title specially for your shop, what would it be?

Ten Poems from the Coast

sells well. Since both our shops are near the coast, one on the Irish coast would, I'm sure, be well received. Rather niche, but if there could be one specific to the wonderful Burren on our doorstep, we'd buy the whole print run from you! Also, lighthouses.

What are your ambitions for the bookshop in the future?

In Kilrush we have two back rooms that are under-utilised. I'd love them to be shops within the shop, perhaps selling games and artists' materials. We'd like to get a good programme of events going in the shops and also attend more outside events around the county.